Why to Submit to Convention: A Cute Boy from Idaho
At my first Sigma Tau Delta Convention (
Kansas City, MO, 2005
) one of my students, Jess, told me, "I met a cute boy from Idaho, and he's such a good poet." A moment later, she paused and said quizzically, "That's a sentence I never expected to say."
I knew why her cute poet from Idaho had startled her so much. She had discovered that fellow English nerds were way easier to find at a Sigma Tau Delta convention than anywhere else, and also that English nerds were from EVERYWHERE. Even from a place associated mostly with mountains and potatoes.
If a student asks me if they should submit to and attend convention, I shower them with reasons why they should and badger them to do so, but all the reasons often come down to the Cute Boy from Idaho—to the idea that convention is where you can surround yourself with an immense variety of people who all share your love of language and literature, and of writing and talking about language and literature. Convention attracts people from all over the nation and the world, of many ages, and of different economic, religious, political and educational backgrounds. Convention brings together world travelers and those who have never used public transportation—until convention. And all these different attendees all surprise one another by being so instantly familiar. The Cute Boy from Idaho was a poet as well as a Westerner who had not yet met a Jewish girl from the NYC suburbs. Neither expected that the other was a kindred soul.
Presenting at convention is hard—one reaches into oneself and stands up for one's ideas and work—but one also finds a receptive audience that thrills to one's ideas and work. When students join this space, though, they quickly are put at ease by a shared love of literature, of storytelling, and of the rhythms of language and the beauty of words. In this space, students "find their people," and then hear their stories and examine their ideas.
Come to Convention—find out just how much we all have to teach one another, to learn from one another, and to share with one another. Convention has Cute Folks from Everywhere.
---
Join Us in Denver for the 2023 Convention
The best way to experience a Sigma Tau Delta convention is as a presenter. Submissions to the 2023 Convention in Denver, CO, are now open for a wide variety of presentation options.
Academic Submissions
Submissions are now being accepted for critical and creative papers, roundtable presentations, and Research in the Round. Eligible students include: Sigma Tau Delta active members in good standing, Sigma Kappa Delta members, and Transfer Students as Provisional Members of Sigma Tau Delta. These members may submit the following:
Submissions also are accepted from alumni members, those who are members of Sigma Tau Delta who have an undergraduate degree and are not currently pursuing an advanced degree in English or a related field at a school with an active Sigma Tau Delta chapter. Alumni may submit the following:
Submissions will be accepted through the Academic Submissions Login Page, which will be posted through October 31, 2022, 5:00 p.m. CDT. Be sure to set up your account with an email address you will retain through April 2023.
Other Submissions
We also are still accepting submissions for our two new presentation opportunities: Alumni Professional Development Presentations and Chapter Share Tables.
Alumni Professional Development Presentations
Alumni members of Sigma Tau Delta planning to attend the 2023 "Colorful Colorado" Convention in Denver, CO, are welcome to submit a Professional Development Presentation and to earn a $300 honorarium to help defray their convention expenses.
Professional Development Panels will be held at 9:30-10:45 a.m., Thursday, March 30, and will have two to four alumni presenters in panels arranged topically; for example, alumni in arts management might be on the same panel together. No alumni presenter will be expected to present a panel entirely on their own.
Chapter Share Tables
Chapter Advisors (and chapter student members) may submit a request to have a Chapter Share table at the Chapter Share event (tentatively scheduled for Thursday March 30 at 5:00 p.m.). Chapter Share tables will be located by the Chapter Displays left up throughout the convention. Chapters need not request a Chapter Display Table until February.
Requests for Chapter Share may be submitted by a Chapter Advisor or chapter student member. Student members are limited to no more than three convention submissions.
The Chapter Share Event will take place on Thursday in Session D, (the mini session) and will be located near Chapter Displays. Chapters are encouraged to share one of more programming ideas with others who stop by to ask questions about your successful events.
Submissions will be accepted through October 10, 2022, through Sigma Tau Delta's AwardSpring Application link. Be sure to set up your account with an email address you will retain through April 2023.
---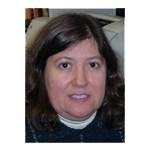 Diane Vanner Steinberg
2023 Convention Chair