Research in the Round Table Hosts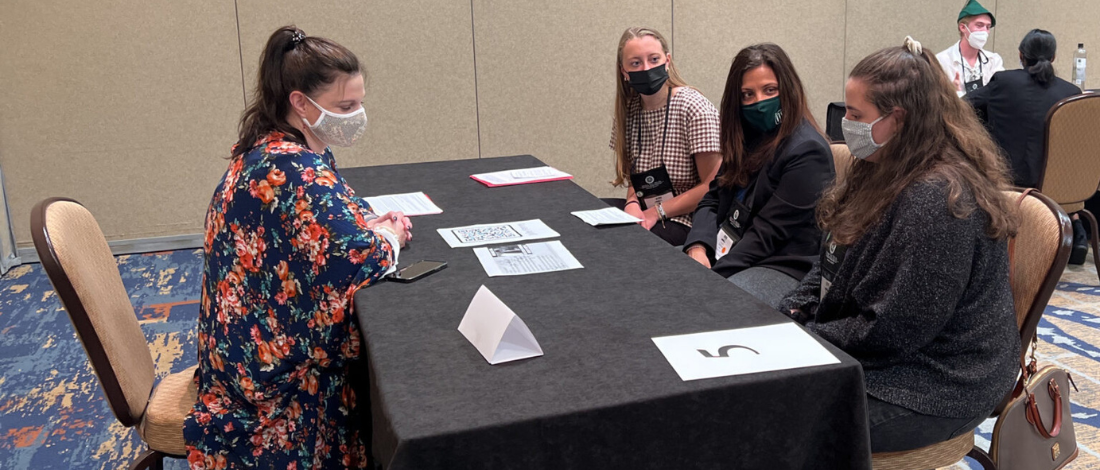 Planning to attend the 2023 Convention? Submit a proposal to host a table at Research in the Round, a timed event that promotes the very best part of convention: conversation!
Student Members are invited to submit a topic and two questions for brief engaging conversations about literary, theoretical, pedagogical, or writing topics. If a student submission is accepted for Research in the Round, the student will host a table at the event. Audience participants will circulate from table to table in a timed, speed-style format, where (after a brief introduction from the Table Hosts) they discuss the Table Host's questions or formulate one of their own about the same topic. The Table Hosts should have follow-up questions in mind to prompt further discussion.
For example, if the topic were Frankenstein, the proposed questions might be "What is the significance of Mary Shelley's work being the first science fiction novel?" and "With whom are our sympathies meant to lie, with our narrator Victor or with his Creature?" (The Table Host may be poised to ask, "What factors have played a role in scholars' ignoring Shelley's contributions to a new sub-genre?" or "Why does Shelley frame Victor's narrative with Walton's letter to his sister?").
Let's look at a more up-to-date example. If the topic were color- or race-blind casting in contemporary theatre, the Table Host would begin to think about what they wanted to argue about color- or race-blind casting and how it might affect dramatic interpretations. They would gather examples from theatrical or film productions, and write literary questions about this decision made by directors and producers. Many audience participants with high school or college drama experiences have likely been part of a color- or race-blind cast, and could use the topic to think about the role actors and directors and producers have in influencing an audience's literary interpretation.
Each round will be limited to about nine or ten minutes of discussion. Table Hosts will engage in up to five or six conversations with as many as twelve participants.
Attendees—not Table Hosts—will indicate their interest in Research in the Round during convention registration, or they may register to participate during the Convention as space permits.
Research in the Round Table Host Proposal submissions will include the following components:
Your name, chapter name, email address (choose an email address you monitor regularly and will still use in March 2023), and mobile number;
Your proposed Research in the Round topic;
An abstract of no more than 50 words describing your topic. The abstract could include information on your proposed research thesis, and on any reading you have already done on your topic. A 50 word abstract is the maximum that can be placed in the program app; and
A longer explanation of no more than 250 words that includes a draft of your two proposed questions and a brief working bibliography on your proposed topic.
Student members may submit both a paper and a Research in the Round Table Host Proposal. Research in the Round Tables, however, should not propose the same topics as papers. These Tables are designed to allow student members to work on, explore, and refine topics that are not yet finished papers. Students submitting Common Reader papers are also welcome to submit Research in the Round Table Host Proposals, even if this is their third submission to the convention.
Submission Topics
British Literature before 1500
Early Modern British Literature (1500-1750)
Enlightenment and Romanticism (1750-1837)
Victorian and Pre-War British Literature (1837-1914)
20th/21st Century British Literature
Colonial American Literature
19th Century American Literature
20th/21st Century American Literature
Multicultural American Literature (African, Latinx, Native, Asian)
World Literature (Anglophone)
World Literature in translation
Popular Culture, Film, and Media
Teaching English Language/Literature; Practices/Pedagogy; ESL/TESOL
Linguistics or Rhetoric
Children's/Young Adult Literature
Graphic Novels/Memoirs
AltLit
Common Reader The Rock Eaters
All 
Research in the Round Table Host Proposals
 will be evaluated by multiple judges. View 
evaluation criteria
.
Submission Deadlines and Notifications
Submissions are due on Monday, October 31 at 5:00 p.m. CDT. Acceptances for these proposals will be emailed on Tuesday, November 15. Submitters will receive confirmation, acceptance, and registration information via the email addresses associated with their accounts. Therefore, it is vital that members use email addresses that they check regularly and that will be active through April 2023.
Please submit using a desktop computer or laptop. Do not submit from a phone or tablet. Be sure to set up your account with an email address you will retain through April 2023.
Questions
Email 2023 Convention staff at [email protected] with questions.