Research in the Round Table Hosts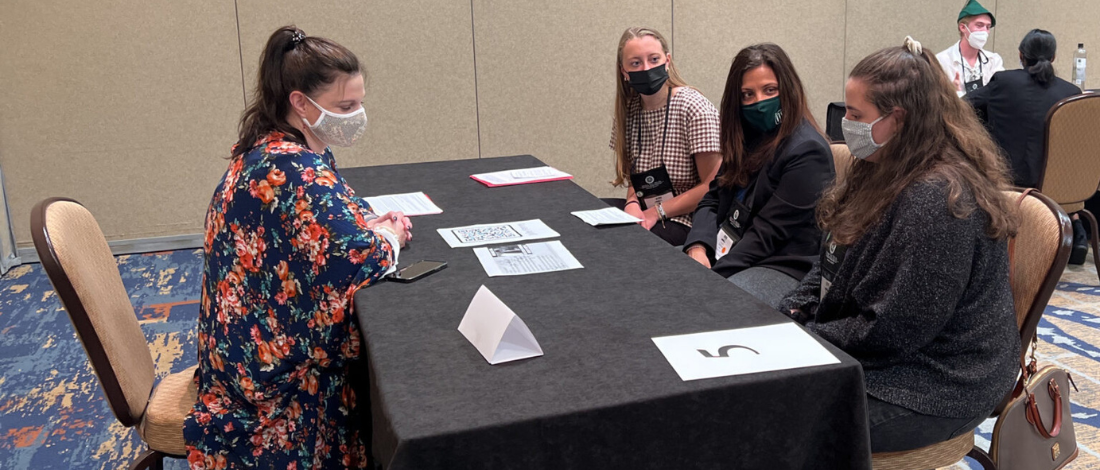 Research in the Round Acceptances (updated 01/13/2023)
Planning to attend the 2023 Convention? Submit a proposal to host a table at Research in the Round, a timed event that promotes the very best part of convention: conversation!
Student members are invited to submit a topic and two questions for brief, engaging conversations about literary, theoretical, pedagogical, or writing topics. If a student submission is accepted for Research in the Round, the student will host a table at the event. Audience participants will circulate from table to table in a timed, speed-style format, where (after a brief introduction from the Table Hosts) they discuss the topic, answering the two questions or formulating one of their own about the same subjects.
For example, if the topic were "Playing God," the proposed questions might be "How do novels like Frankenstein ask readers to wrestle with ethical questions?" and "What are the implications for characters who make someone 'immortal' in vampire literature?" (The Table Host might be poised to ask, "What other texts wrestle with the idea of violating laws of nature?" or "What works do you think of when you hear the words 'playing god?'").
Or imagine the topic was "Color- or Race-Blind Casting in Contemporary Theatre." The Table Host might have questions that ask about the effects of this kind of casting approach. The second question might focus on the extent to which historical accuracy is important. The Table Host could be prepared with specific examples from theatrical or film productions, and follow-up questions could ask participants to think about the role actors, directors, and producers have in influencing an audience's interpretation.
Each round will be limited to nine or ten minutes of discussion. Table Hosts will engage in five or six rounds of conversation with several participants per round. Hosts should not expect to talk the whole time but should instead encourage discussion.
Upon acceptance, Table Hosts go through a brief follow-up process, working with Student Leadership to curate visual elements and/or additional resources for their topic.
Attendees—not Table Hosts—will indicate their interest in Research in the Round during convention registration, or they may register to participate at the Convention as space permits.
Questions
Email 2023 Convention staff at englishconvention@niu.edu with questions.