When our 2021 Virtual Convention co-chairs asked us to reimagine the convention in the same ways that the pandemic has forced colleges and universities "to focus on the essentials of their mission," they also invited Sigma Tau Delta's membership to focus on the essentials of the convention. Paper presentations and creative writing presentations have always allowed the organization to celebrate individual achievement. Roundtables, however, allow students, alumni, and faculty mentors to fulfill the community-oriented mission of Sigma Tau Delta: to provide cultural stimulation and promote interest in literature, to foster all aspects of the discipline of English, and to promote good fellowship among members. Where papers might feature our own contribution to scholarly discourse, roundtables enact the scholarly discourse and make it both personal and shared.
As I was preparing to write this blog post, I thought back to all of the roundtables that I've moderated and attended, as well as to having helped my students make connections with faculty and students at other chapters. This post reflects on some of those experiences to suggest what students should aim for as they formulate roundtables and provides some suggestions about what makes a roundtable extraordinary.
Roundtables aren't unique to Sigma Tau Delta. Featured in many scholarly organizations' conferences, they allow participants to grapple with complex issues, explore emerging techniques or technologies, or reflect on the direction of the discipline. One of the most stimulating roundtables that I've ever attended at a professional conference was an open discussion of digital humanities at the MLA. The organizer stood in the center of a massive room beside a projector and facilitated an exciting discussion between the six planned participants and the other fifty people in the room. It was a genuine conversation. I learned something new, and I felt like I was part of a real community with shared interests and goals. I attended in the first place, however, because another Sigma Tau Delta Advisor had been bringing her students to the convention for years to talk about digital humanities, and their work encouraged me to learn more.
As I start the "advice" portion of the blog, let me suggest that you keep those principles in mind as you plan your submission and your actual roundtable. What is a topic or issue related to English studies (broadly construed) that you feel passionate about? That you believe will generate genuine discussion beyond just the other invited members of the roundtable? That you think will share something new that members of the audience might not know? And what will make them (and yourselves) feel like they are members of a real community with shared interests and goals?
You may, for instance, be like Jenna Burke (2016-2017 Eastern Region Associate Student Representative and 2018 TCNJ MA graduate) who reflects after her participation in two roundtables at the 2018 Convention in Cincinnati that the format lends itself "to welcoming [the] audience into the conversation." She says that she appreciated the opportunity to "connect with people who share a common interest and nerd out" about that interest. In her case, it was a roundtable about web-based adaptations of literary works. Jenna left the session "with more on [her] to-read and to-watch lists." As the moderator of the discussion, I learned about an entire genre of literary adaptation that I'd never heard of before!
Or you may be like Diane Steinberg, President of Sigma Tau Delta (and my chapter Co-Advisor), who says that some of the best roundtables that she has "attended have been pre-professional. Students who are thinking of community college teaching careers and alumni and faculty who have taught at community colleges can share and discuss the paths they are taking." Alumni are important contributors to pre-professional roundtables because they can share their work experience and the paths they took through courses to internships to their careers. Think about all you have learned this year as we have adapted to online teaching and learning. What is it like to student teach from behind a computer screen?
Or you might be like Leigh Dillard, Co-Advisor of the University of North Georgia Gainesville chapter and Southern Regent, who encourages her students to use their communication skills and to embrace the collaborative nature of the roundtable format. In past conventions, her students have collaborated with members in far-distant chapters, such as Franklin Pierce University in New Hampshire. Franklin Pierce's 2019 session in St. Louis—with the provocative title #janeaustenisboring—included students from three chapters and two regions.
Literary anniversaries and new scholarship on favorite writers can also spark exciting discussions. Lexey Bartlett, 2021 Convention Co-Chair and Secretary/Treasurer, recalls, "The 200th anniversary of Frankenstein's publication generated two successful roundtables at the Cincinnati Convention I chaired, and I liked that students were engaging with the long and ongoing scholarly conversation about that important novel." All roundtables, no matter the topic, should also be firmly grounded in the conversation around their topics. For writers that have received significant scholarly attention, like Shakespeare, Toni Morrison, or the Brontës, for example, focusing on new developments in that scholarship can be one way to meet that requirement.Sources from larger cultural conversations that touch on your topic can be useful, too.
But you may be wondering how to get started. You might begin by thinking about your shared literary or paraliterary preoccupations. Do you pester your friends with TikTok videos or Snapchat stories? A roundtable at the 2018 Convention focused on "literary memes." Kristen Capano (2017-2018 Eastern Region Student Representative and 2017 TCNJ BA graduate) describes that roundtable as "one of the most rewarding experiences of convention" and a chance for "students and teachers come together in a topical conversation that actually unveiled a lot about how previous works relate to our youth culture." Do you and your classmates ever sit around and talk about the classes you wish your faculty taught? Do you ever talk about how you deploy your English studies training for activism? Do you ever talk about emerging trends in literature or literary adaptation that your faculty members have never heard of? Do you ever say to yourself (after completing an internship or a teaching field placement) "If only I'd known this beforehand"?
If you do any of these things, you might have a topic for a roundtable presentation. The most fruitful roundtable presentations are those that attract the widest and most varied audience and involve participants from multiple chapters, so start networking. Let your faculty Advisors know what you're thinking about. They may know other chapter Advisors who can spread the word among their students. Post a "participants wanted" message to your region's Facebook group or (ahem) send an email to your Regent. Along the way, you'll likely discover some amazing things about yourselves, your reading and writing interests, and, perhaps, even your professors!
(Many thanks to all who were willing to talk to me about their experiences!)
---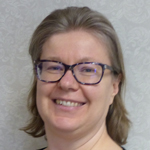 Felicia Jean Steele
Eastern Regent
Alpha Epsilon Alpha Chapter, Co-Advisor
The College of New Jersey, Ewing, NJ
Convention Submissions
The Convention Co-Chairs invites Convention Submissions on a wide range of topics, including the Common Reader. See Roundtable Submissions page for a general listing of suggested areas, although submitters may also choose a topic of their own.
Roundtables are designed to promote discussion and exploration of a selected topic, with roundtable members and the audience participating in a scholarly and active discussion. Competition for the roundtable slots available will be lively. Among equally persuasive proposals, the convention judges will give priority to those roundtables that include members from more than one chapter and/or that cover the convention theme Metamorphoses or the 2021 Common Reader: Rough Beauty: Forty Seasons of Mountain Living. Submissions will be accepted Monday, October 12 through Monday, November 9, 2020, 11:59 p.m. Central Standard Time (CST).
Submissions Overivew
Roundtable Submissions
---
More from Footnotes: October 27, 2020
Ravens and RiverMead Read!
Classroom Library Grants due November 9
An English Major on Capitol Hill
Fall Scholarship and Internship Application Dates