Online Registration
Registration will open for Sigma Tau Delta members, Sigma Kappa Delta members, and guests on January 4, 2024.
If you need to pay by check, please email [email protected] for a registration form, which you will print, complete, and mail with your check to the Sigma Tau Delta Central Office.
Registration Fees
Early Registration for Presenters and Attendees
Presenters are required to register by January 17 to be placed in the program schedule. Presenters are students and alumni who have been accepted to present a paper, host a Research in the Round table, workshop, or have been accepted as a participant on a roundtable.
January 4 – January 17
$80 for students (includes student members who graduated in December 2023)
$95 for all other attendees
$25 additional for the Red & Black Convention Awards Luncheon
General Registration
January 18 – February 1
$120 for all participants
$25 additional for the Red & Black Convention Awards Luncheon
Late/On-Site Registration
February 2 – April 6
$140 for all participants
$25 additional for the Red & Black Convention Awards Luncheon
Processing Fee
A $4.00 processing fee will be added to each registration.
Cancellation Fee
There is a $25 cancellation fee per registrant for registration and Award Luncheon cancellations received on or prior to February 1, 2024. After February 1, these fees are non-refundable.
Convention T-shirt
Purchase your T-shirt with your registration and pick it up at the Shop English pop-up store April 3-5. Only a limited quantity of T-shirts will be available for sale at the convention.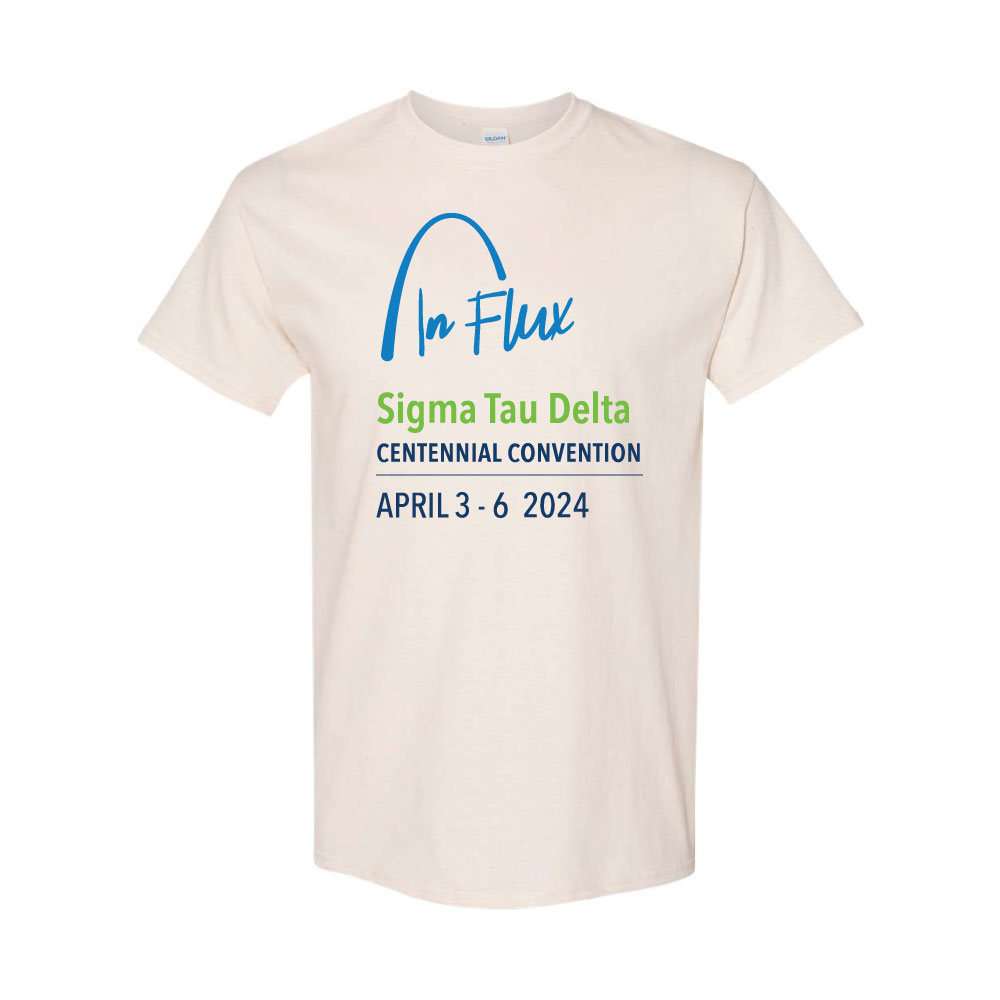 Styles and Sizes
Regular style short sleeve is available in sizes: S, M, L, XL, 2XL, 3XL, and 4XL – $15.
Red and Black Convention Awards Luncheon
The Awards Luncheon is the culminating, most exciting, and most special event of the convention, regularly getting top reviews in post-convention surveys. Join hundreds of attendees at this festive event, share stimulating conversations and laughter, and be present when thousands of dollars are awarded for the best convention presentations. Don't miss this opportunity to sport your red and black finery while celebrating your membership in Sigma Tau Delta or Sigma Kappa Delta.
Convention registration fees do NOT include the Red & Black Convention Awards Luncheon on Saturday, April 6 at 12:45 p.m. Your highly subsidized banquet fee is a separate $25.00 for each convention registrant and non-registered guest. Dinner guests may choose one of the following entrees:
Chicken
Vegetarian/Vegan/Gluten Free
If you have dietary restrictions, complete the Dietary Restriction Requests form when you register for the convention.
What to Wear at the Convention
Presenters should wear business attire for their presentations. Don your school spirit wear for the Wednesday Opening Ceremony and Friday Business Meeting. For the Red & Black Convention Awards Luncheon, members are encouraged to wear Society colors and cords and/or medallions.
Americans with Disabilities Act
Sigma Tau Delta makes every effort to accommodate those who have special needs relating to the Americans with Disabilities Act of 1990. Should you or anyone with you require special assistance, please submit a list of your requirements with your registration.