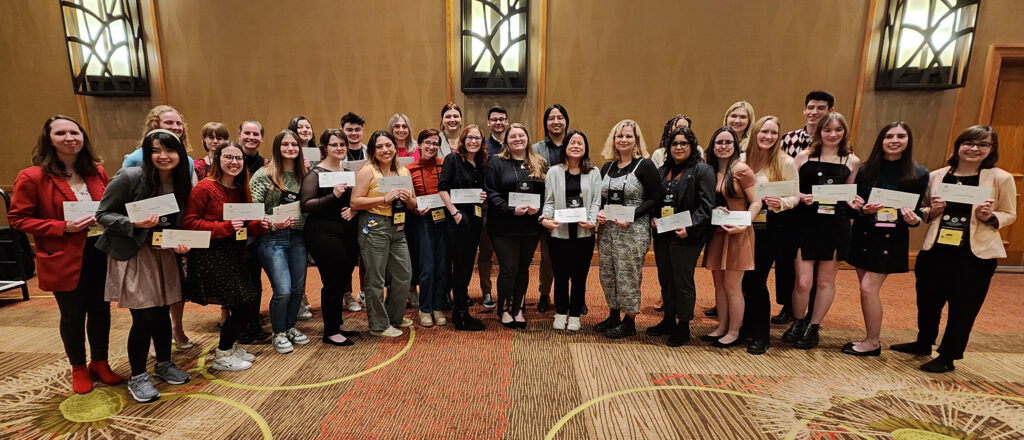 Sigma Tau Delta recognized excellence by awarding nearly $12,000 for the best convention submissions at the 2023 Convention Awards Luncheon on Saturday, April 1, 2023.
Isabel Sparks President's Awards
Given for the best presentations by active student and alumni members at the Sigma Tau Delta Convention, these awards were established in 1991 by Isabel Sparks, the fifth President of Sigma Tau Delta. Awards are given to both creative and critical papers across all submission categories. Awards are always given for creative and critical papers about the 2024 Common Reader Then the War: And Selected Poems, 2007-2020.
Justin Q. Owen Convention Awards
Each year, these awards recognize critical essays and creative works by active students and alumni writing on the convention theme; this year's theme is In Flux. The monetary prizes are given in honor of Justin Q. Owen, the first National Secretary of Sigma Tau Delta.
Beth DeMeo Poetry Award
This award is given yearly to honor excellence in convention presentations for "Critical Work on Poetry or a Poet." Beth DeMeo was an active member of the Sigma Tau Delta organization, having served as a Chapter Advisor, Eastern Regent, and President of Sigma Tau Delta. Over her many dedicated years of service, Beth planned and hosted several annual conventions. Additionally, she continued to serve on committees and always participated in judging convention submissions. In particular, Beth enjoyed being part of the small group who ranked the student submissions that were eligible for convention awards, particularly in poetry. Beth was both a lover of poetry and an accomplished poet herself. It is fitting to celebrate her life and her commitment to our group by presenting this annual convention award in her memory.
Stemmler/Dennis LGBT& Awards
Sigma Tau Deltans Kevin Stemmler and Larry Dennis are sponsoring the Stemmler/Dennis LGBT& Awards to be given annually for outstanding convention work representing or celebrating the LGBT community and its literary contributions. The award acknowledges the variety of voices that have too often been ignored in scholarship and in creative work. In addition to providing representation for our Society's membership, the award compensates for the historical lack of LGBT recognition, specifically in academic settings.
Other Convention Awards
Sigma Tau Delta values creative and scholarly contributions that represent diversity of abilities, races, and creeds, and we present special awards for the best among these submissions. Sigma Kappa Delta (our sister organization at two-year schools) also rewards excellent submissions by their members.
Beyond convention submissions, the organization also gives prizes for "Outstanding Chapter Displays" (posters displayed and judged during Convention).