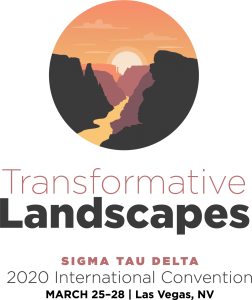 Our 2020 Convention site, Las Vegas, NV, sits at the convergence of three transformative geologic landscapes in North America: the Mojave Desert, the Colorado Plateau, and the Great Basin. This conference location invites us to consider the almost mythic allure of the Western landscape that has entranced many artists.

At once harsh, unforgiving, and stunningly beautiful, the landscape has and continues to impress its human visitors with its transformative quality—changing itself through the erosive properties of wind, fire, and water, and yet, its seeming impermeability and paradoxical stolidity also transform the individual who dares to gaze into the vastness of the Grand Canyon or bow in humbled reverence to the arid desert of Death Valley and wonder how such a place could house the grand explosion of natural color in the Spring.

As we dare to encounter and navigate the changing and transformative landscapes that surround us—as readers, writers, and teachers—let us consider the role of wilderness and place to our own changing and transforming identities. As Terry Tempest Williams reminds us, "We need wilderness in order to be more complete human beings." How have your own encounters with "wilderness" and the land transformed and shaped you as a writer, as a reader, as a human being? In what ways have those landscapes (themselves transforming by fire, water, and wind) also enhanced your consciousness of this relationship between land and personal identity.

Our theme for the Las Vegas Convention—Transformative Landscapes—invites you to contemplate these questions (and others) as you explore the transformative nature of the land and of the self as it roams the hills, cliffs, arroyos, wetlands, forests, and river beds of the ever-changing landscape that surrounds all of us.

While you make your way to the Mojave Desert in 2020 for convention, in the words of Edward Abbey, "May your trails be crooked, winding, lonesome, dangerous, leading to the most amazing view." We look forward to sharing that journey and that amazing view with you from the top of the Rio in Las Vegas, NV, next year.