SIGMA TAU DELTA 2020 INTERNATIONAL CONVENTION
MARCH 25 - 28, 2020
LAS VEGAS, NV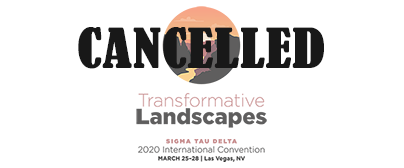 Sigma Tau Delta Convention, CANCELLED
March 12, 2020—It is with sadness and great regret that we announce the cancellation of this year's Sigma Tau Delta/Sigma Kappa Delta Convention (due to take place in Las Vegas, March 25-28, 2020).
Show More
2020 Convention Cancellation Update
March 13, 2020—Thank you again for your patience as we work through details regarding the complex cancellation of the Sigma Tau Delta 2020 International Convention in Las Vegas. We have updates on a few items that you may have questions about.
Show More
3700 W. Flamingo Road, Las Vegas, NV 89103