One of the highlights of any Sigma Tau Delta convention is the opportunity to hear our Featured Speakers talk about their writing. In planning this year's fully online convention we were determined to retain this key component of our event. Attendees of the Sigma Tau Delta 2021 Virtual Convention will have the pleasure of participating in two Featured Speaker presentations.
Karen Auvinen
By now, hopefully many of you are familiar with our 2021 Common Reader author: Karen Auvinen. Auvinen is an award-winning poet, mountain woman, life-long Westerner, writer, and the author of our common reader, the memoir Rough Beauty: Forty Seasons of Mountain Living, chosen as a Top 10 Book of June 2018 by The Christian Science Monitor. Her work has appeared in The New York Times, LitHub, Real Simple, Westword, as well as numerous literary journals.
Auvinen earned an MA in poetry from the University of Colorado and a PhD in fiction from the University of Wisconsin–Milwaukee and currently teaches writing workshops at Lighthouse Writers Workshop and film, pop culture, and storytelling to first-year students at the University of Colorado Boulder.
Past gigs include Writer-in-Residence for the State of Colorado, editor, book-buyer, rural postal route driver, caterer, clinic assistant, landscaper, summer camp director, and guest chef. She lives in the Colorado mountains with the artist Greg Marquez, their dog River, and Dottie the Cat.
This year our Student Leaders have been reading Rough Beauty and discussing how themes from each chapter align with this year's Convention Theme: Metamorphoses. Visit the EnglishMatters YouTube Channel to view the 2021 Common Reader Video Series. Also make sure to check out Southern Region Student Representative Haley Powell's blog, "Metamorphosed: Rough Beauty and Our Changed Existence," which examines how Rough Beauty resonates with many of the experiences we are all enduring mid-pandemic.
Michael Branch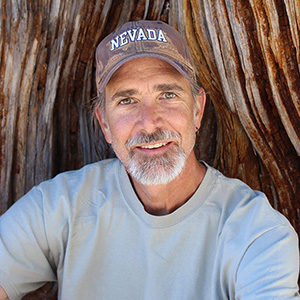 Michael Branch is a writer, humorist, environmentalist, father, and desert rat who lives with his wife and two young daughters in the western Great Basin Desert. His work includes nine published books, one of which is the Pulitzer Prize-nominated John Muir's Last Journey: South to the Amazon and East to Africa. His four recent books are: Raising Wild: Dispatches from a Home in the Wilderness, Rants from the Hill: On Packrats, Bobcats, Wildfires, Curmudgeons, a Drunken Mary Kay Lady, and Other Encounters with the Wild in the High Desert, 'The Best Read Naturalist': Nature Writings of Ralph Waldo Emerson (co-edited with Clinton Mohs), and How to Cuss in Western. 
Branch has published more than 200 essays, articles, and reviews, and has given more than 300 invited lectures, readings, and workshops. His creative non-fiction includes pieces that have received Honorable Mention for the Pushcart Prize and been recognized as Notable Essays in The Best American Essays (three times), The Best Creative Nonfiction, The Best American Science and Nature Writing, and The Best American Non-Required Reading (a humor anthology). His essays have appeared in venues including Utne Reader, Orion, Outside, Ecotone, CNN, Slate, Bustle, Terrain.org, Pacific Standard, National Parks, Hawk and Handsaw, Places, Red Rock Review, and Whole Terrain, and have been anthologized in numerous collections on family, environment, and humor. 
Branch, who is Professor of Literature and Environment and University Foundation Professor at the University of Nevada, Reno, is co-founder and past president of the Association for the Study of Literature and Environment (ASLE), served for sixteen years as the Book Review Editor of ISLE: Interdisciplinary Studies in Literature and Environment, and is a co-founder and series co-editor of the University of Virginia Press book series Under the Sign of Nature: Explorations in Ecocriticism. He is the recipient of the Ellen Meloy Desert Writers Award, the Nevada Writers Hall of Fame Silver Pen Award, the Western Literature Association Frederick Manfred Award for Creative Writing, and the Willa Pilla Award for Humor Writing. His current book, under contract with Pegasus Books, is on the jackalope.
When he isn't writing, Mike enjoys activist and stewardship work, native plant gardening, bucking stovewood, playing blues harmonica, sipping sour mash, cursing at baseball on the radio, and walking at least 1,000 miles each year in the hills and canyons surrounding his desert home.
Don't miss Karen Auvinen's presentation on Friday, March 26 at 4 p.m. CST. Michael Branch will conclude our convention on Saturday, March 27 at 4 p.m. CST. Both of these Featured Speaker events will ONLY be available to convention attendees. All convention registrants will also have access to exclusive interview videos with both Auvinen and Branch, conducted by our Student Leaders.
Sigma Tau Delta 2021 Virtual Convention
Join us on March 25-27 for our first virtual convention, featuring roundtable presentations from chapter members, social events, networking sessions, and featured speaker presentations. Check out the Schedule Preview to learn more. A full session schedule will be available for all registrants after March 8. Register to attend by March 22.
Resources
Sigma Tau Delta 2021 Virtual Convention
About Sigma Tau Delta Conventions
Convention Theme
2021 Common Reader
Roundtable Presentations
Featured Speakers
Convention Registration
Schedule Preview