With the Sigma Tau Delta 2020 International Convention in Las Vegas, NV, fast approaching, it's time to start planning how you will spend some of your downtime and where you will go to eat with all the great new friends you're about to meet. During the fall Sigma Tau Delta Board meeting, the Student Representatives had some time to learn a little about some of what Las Vegas has to offer. Read on for their reviews of some of the local restaurants and attractions.
Food
Rio All-Suite Hotel Dining
Carnival World Buffet
3700 W Flamingo Rd
Las Vegas, NV 89103
Featuring over 200 selections to choose from, the Carnival World Buffet is conveniently located inside the Rio All-Suites Hotel! If your group is looking for a quick and easy meal option with enough choices to please everyone, this is a great restaurant to consider. When we attended this buffet for Saturday brunch, we made this our one big meal of the day and ate smaller snacks or appetizers throughout the rest of the afternoon. Eating at the buffet for our one large meal of the day was a great way to save money in the long run. The food here was delicious and we received prompt and friendly service with no wait time for a late Saturday brunch. I highly recommend checking out all of the wonderful food choices just steps from our hotel rooms. ~Kaitlynn Sass
Hash House a Go Go
3700 W Flamingo Rd
Las Vegas, NV 89103
One of my favorite restaurants I visited in Vegas. While the prices aren't what I would consider cheap, they are reasonable when it comes to the quality and quantity of the food. The menu is varied so no meal ever feels like a repeat, and it is very vegetarian friendly. No matter which meal you get, every bit of the plate seems covered in food (you may need a to-go container) and the food itself is delicious (I recommend the cast iron skillet potatoes). The staff is very friendly and are always smiling. The best part of this restaurant is its location; it is located at the midpoint between the convention center and the hotel rooms. ~Apryl Moore
They serve HUGE portions at breakfast and lunch, so plan to share with a friend. I had a really great egg scramble with potatoes and a biscuit. I ate this for a late lunch and didn't need to eat dinner that night! ~Amanda Ayers
All-American Bar and Grille
3700 W Flamingo Rd
Las Vegas, NV 89103
Like many places in Vegas, this restaurant can be expensive. There aren't many vegetarian options, but the appetizers offer a tasty platter of meatless loaded tater tots. The staff here are very attentive and intuitive. This restaurant is located closer to the hotel rooms. ~Apryl Moore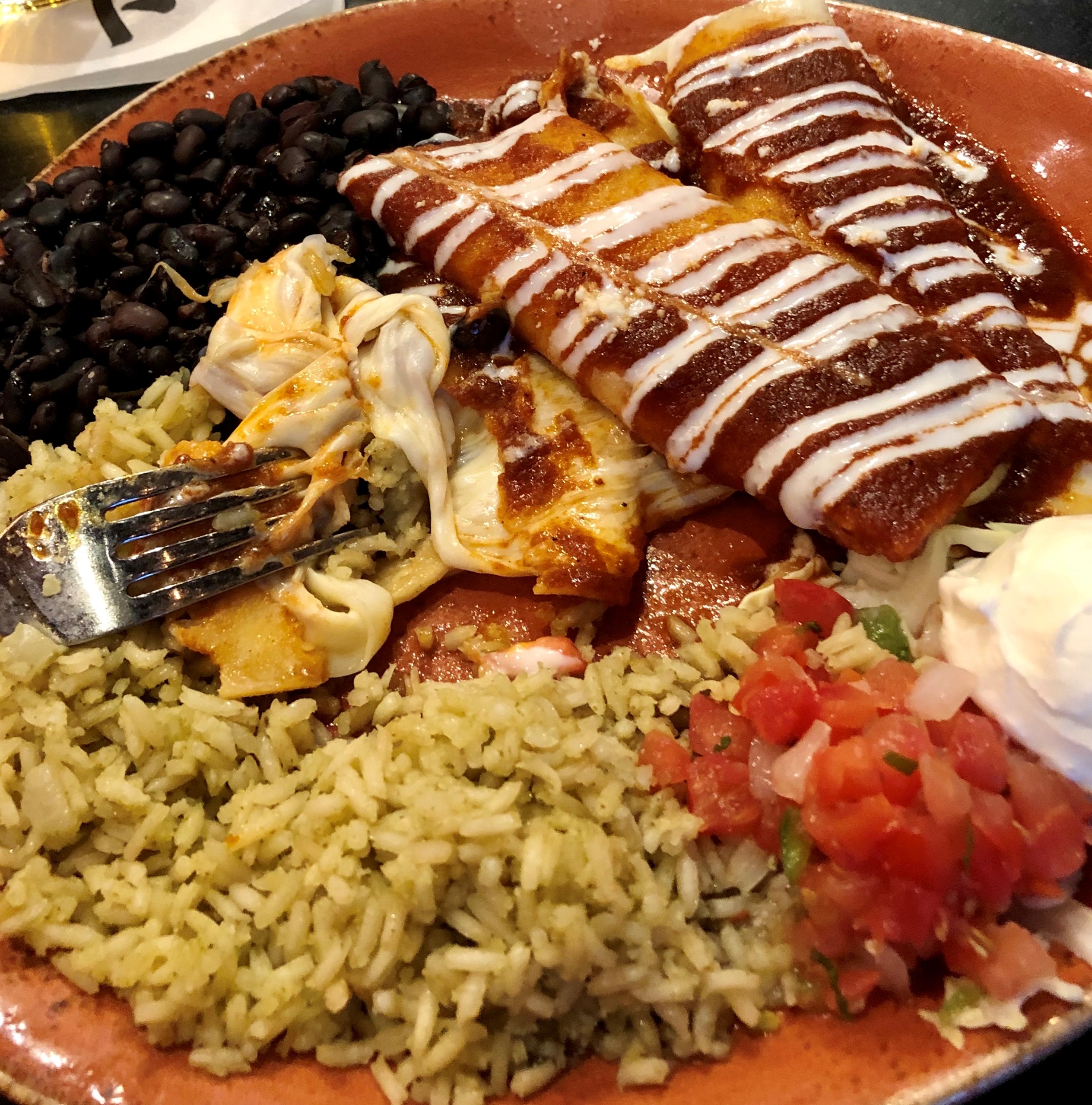 Guy Fieri's El Burro Borracho
3700 W Flamingo Rd
Las Vegas, NV 89103
Because this restaurant is conveniently located on the first floor of our convention hotel, it is perfect for a quick dinner. There is not much to see inside of the restaurant, but the food was phenomenal, and the staff were friendly and convivial. I had the cheese enchiladas with black beans and rice as my entree followed by fried ice cream for desert. It was delicious. I would recommend the fried ice cream alone with a coffee if you have some time on your hands at night. The prices were very reasonable and fair for great food. It came out to about $40, which is about what you would pay at a chain like Chili's, but this celebrity-owned Mexican restaurant provides a slightly more unique experience. I would suggest a visit to anyone attending convention this Spring! I know I will be back. ~Madison Whatley
This Tex-mex place is only open for dinner. The food is very good and you get a lot for your money! The chips and salsa were so good and the trash can nachos were out of this world. Great place to share appetizers and entrees with friends and a great place for a chapter dinner. ~Amanda Ayers
Pho Da Nang
3700 W Flamingo Rd
Las Vegas, NV 89103
This Vietnamese restaurant specializes in pho, lo mein, and other noodle-based dishes. It's conveniently located in the hotel lobby, not far from the check-in desk. Though it's a little pricey (about $12 for a dish of lo mein) the serving sizes are big enough that one dish could easily be shared between two people. ~Alex McCarron
Pho Da Nang is located in the Rio All-Suite and the food here is excellent. There is a great variety on the menu. I had the stir fry and it was very tasty. It was freshly made and really hit the spot! This is also a spot for a quick bite between sessions, and you can absolutely split an entrée for lunch.  ~Julie Handy
Pho Da Nang Vietnamese Restaurant, located within the Rio Hotel, is a great place to grab a quick bite to eat. If going for lunch, the portions are large and can definitely be split between two people for a much more affordable price. I had the teriyaki chicken and steamed rice which was amazing. ~Jessica Trad
Royal India Bistro
3700 W Flamingo Rd
Las Vegas, NV 89103
Great lunch option! Their lunch buffet is about $16 on weekdays and offers several delicious options. The tikki masala, basmati, and naan were so good. They also accommodated our group of about six well. I will definitely be eating here again in the spring. ~Amanda Ayers
Smashburger
3700 W Flamingo Rd
Las Vegas, NV 89103
Smashburger is a quick stop to eat within the Rio Casino. If you have a limited amount of time and need to grab something to eat I would stop here. They served a great mushroom and swiss burger. Plus, their Smash Fries are amazing. ~Julie Handy
Starbucks
3700 W Flamingo Rd
Las Vegas, NV 89103
Located near the elevators in the hotel lobby, this Starbucks stand sells all the usual staples–coffee, iced tea, pastries, and breakfast foods. ~Alex McCarron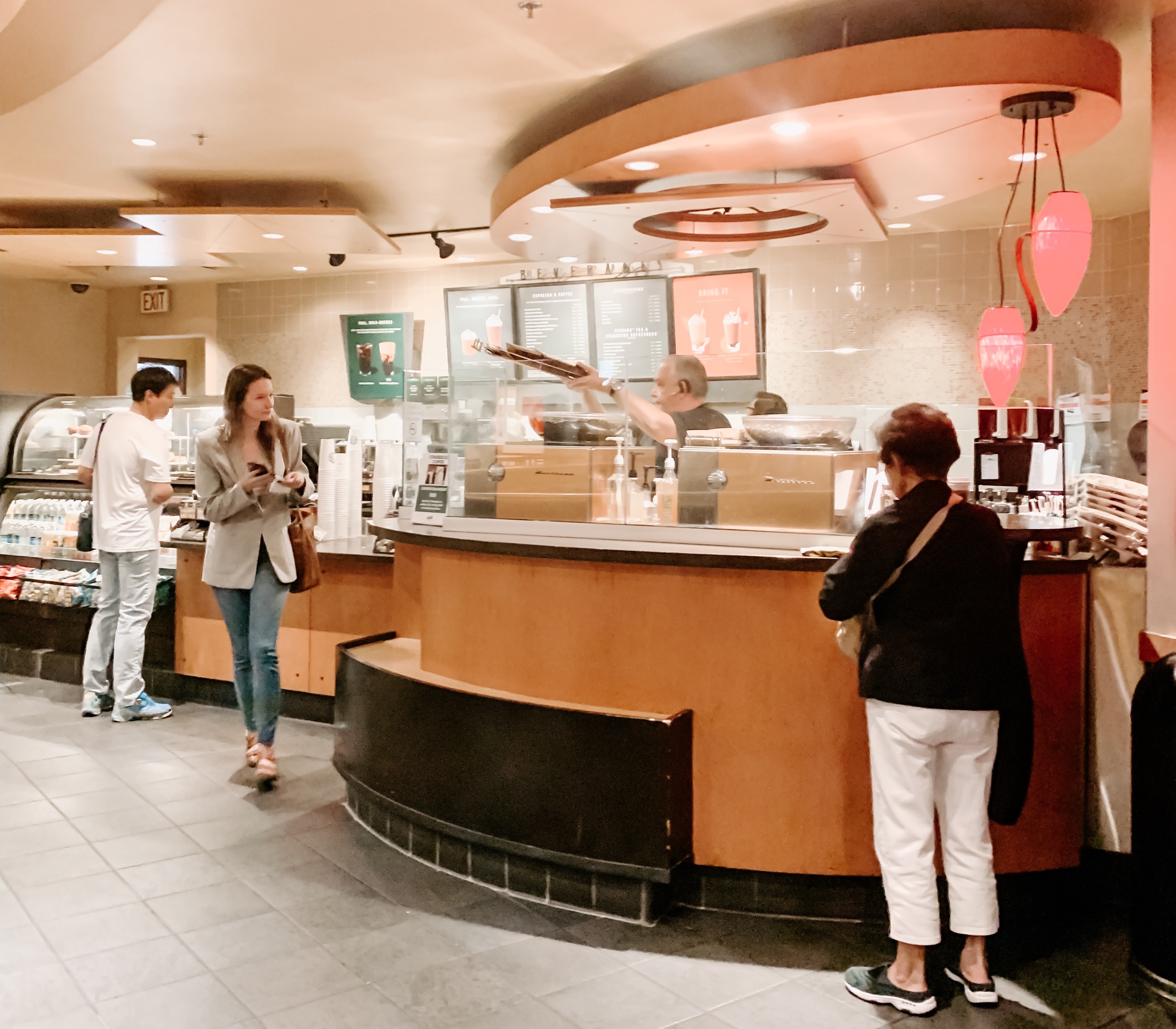 The hotel actually has two Starbucks locations, a kiosk open throughout the day and a full coffee shop open until 1pm. The full coffee shop, which is on the way from the rooms to the convention space, has lots of seating. ~Amanda Ayers
Reis & Irvy's
3700 W Flamingo Rd
Las Vegas, NV 89103
An adorable frozen yogurt machine located right on the way to the convention center; each serving of yogurt costs around $5. Flavor choices are vanilla, chocolate, or a swirl, and topping choices include peanuts, Reese's pieces, and M&M's. ~Alex McCarron
Additional Vegas Dining Options
AYCE Buffet
4321 W Flamingo Rd
Las Vegas, NV 89103
With a lunch price of $17.99, the AYCE Buffet, located in The Palms—just a short walk from The Rio—is a hard deal to beat. When a group of us went for lunch on a Friday, the wait in line to be seated was less than half an hour and we received excellent and friendly service. The food ranged from barbecue to Asian fare to a wide selection of vegetarian and vegan options, with an impressive dessert bar. Overall, the food was good quality and we had a pleasant dining experience. If you're looking to spend a little more on one large meal for the day, the AYCE buffet is a great option. It also provides a wide variety of food choices to accommodate everyone in your chapter or group! ~Kaitlynn Sass
Ports o' Call Buffet at the Gold Coast Hotel
4000 W Flamingo Rd
Las Vegas, NV 89103
For lunch one day, we walked over to the buffet at the neighboring Gold Coast Hotel, and at $10 per lunch, you get what you expect. There was a wide variety of food at a great cost, but the service was inattentive and the food provides memories of your high school cafeteria. I think it is a great place to grab a quick bite, but do not hold high expectations. I grabbed a salad and pizza and left full. ~Claire Seale
The food here was not my favorite, and I don't think that I would go back to this location. Las Vegas is known for its amazing buffets, so I would plan on finding a better one to eat at if making it to a buffet is on your Vegas bucket list. Yes, it got the job done, but it definitely wasn't worth the $14 I spent on it. ~Julie Handy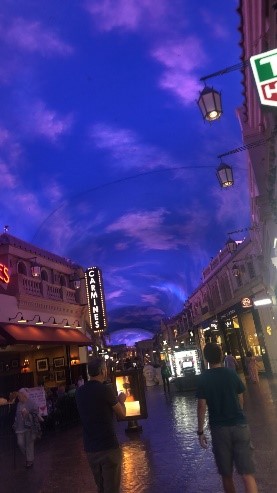 Carmine's
3500 S Las Vegas Blvd
Las Vegas, NV 89109
Carmine's is an Italian restaurant located in the Forum Shops at Caesar's Palace. A one mile walk or cab ride from the hotel, this family-style hot spot serves a variety of delicious pasta, ravioli, and gluten-free Italian options, among other specialties. Ten of us went to dinner here on a busy Friday night and were seated with no wait time. Our server was friendly and helpful in navigating the menu. Dishes are portioned to feed three to four people, and the server suggested just the right amount of food for our large group. The family-centered environment and plating made this a great dinner spot for a larger group. ~Kaitlynn Sass
This family style Italian restaurant is a good option for groups of 4 or more. Everything we ordered was good, but their spicy shrimp in red sauce was absolutely delicious. If you're planning to be out on the strip one night and want a nice dinner, check out The Forum for a variety of options in a really cool atmosphere. ~Amanda Ayers
Gordon Ramsay's Fish & Chips
3545 S Las Vegas Blvd
Las Vegas, NV 89109
On a day trip to the Strip, we had a great lunch at this spot. It's fish and chips, so expect a heavy, greasy meal. But they were very good! They also have several options for topping your chips with various cheeses, meats, etc. The area around The LINQ Hotel (where this is located) had several restaurant options, including In-N-Out Burger (a must-try for our East coast friends) and Margaritaville. ~Amanda Ayers
Maggiano's
3200 S Las Vegas Blvd
Las Vegas, NV 89109
Maggiano's is an upscale Italian restaurant located on the strip. The experience was great, and the food was excellent. It was a higher price for a meal. If you are looking to celebrate coming to convention and go out to walk on the strip this is a great place to eat. They do take reservations. You can absolutely split the food here as well. ~Julie Handy
By the end of the week, we were craving some pasta. Maggiano's did not have a long wait, and we were greeted with lovely service and delicious carb-filled food. The restaurant provides complementary bread and oil at the cost of expensive entrees, but the food did not disappoint. I got the shrimp scampi! We all left with filled to-go boxes; so, I recommend splitting. Maggiano's is located by Fashion Show Mall. It was perfect to walk our carbs off with a little bit of shopping! If you want a little more of a fancy dinner, I recommend Maggiano's, but don't worry about what to wear, you can wear whatever in Vegas. ~Claire Seale
PBR Rock Bar & Grill
3663 S Las Vegas Blvd #730
Las Vegas, NV 89109
This place offers some great food for a great price. Their margarita pizza was fantastic and light. Another savory bite on their menu is a pretzel with cheese dip it was big enough to count as an entire meal. This is located on the Strip by Planet Hollywood. ~Julie Handy
One night when we went to the strip, we realized we were starving and walked into a mall on the strip where we found PBR! Our waitress was timely and sweet, and the food was okay whereas the price was high. I got a huge portion of chicken and waffles, which were good, but at $15, I wouldn't recommend PBR unless you are craving breakfast food or a burger. ~Claire Seale
Fun
The Rio All-Suite Hotel (our convention site)
When you walk into the Rio, you are filled with the sense of history and tradition. Although the ambience is slightly smoke-fringed 70's décor, it is a perfect place to relax and read. The halls are spacious leaving plenty of room to chat about literature in between sessions. The Starbucks has a full menu and quick service. There are many restaurants in the hotel, but if you are looking for a late night snack, I recommend going to a nearby CVS or Walgreens instead of the hotel's gift shop. Overall, there are countless of hours of amusement that one can spend in the Rio Hotel. It is a unique, picturesque experience to walk through the casino on your way to getting Starbucks and attending paper sessions. ~Claire Seale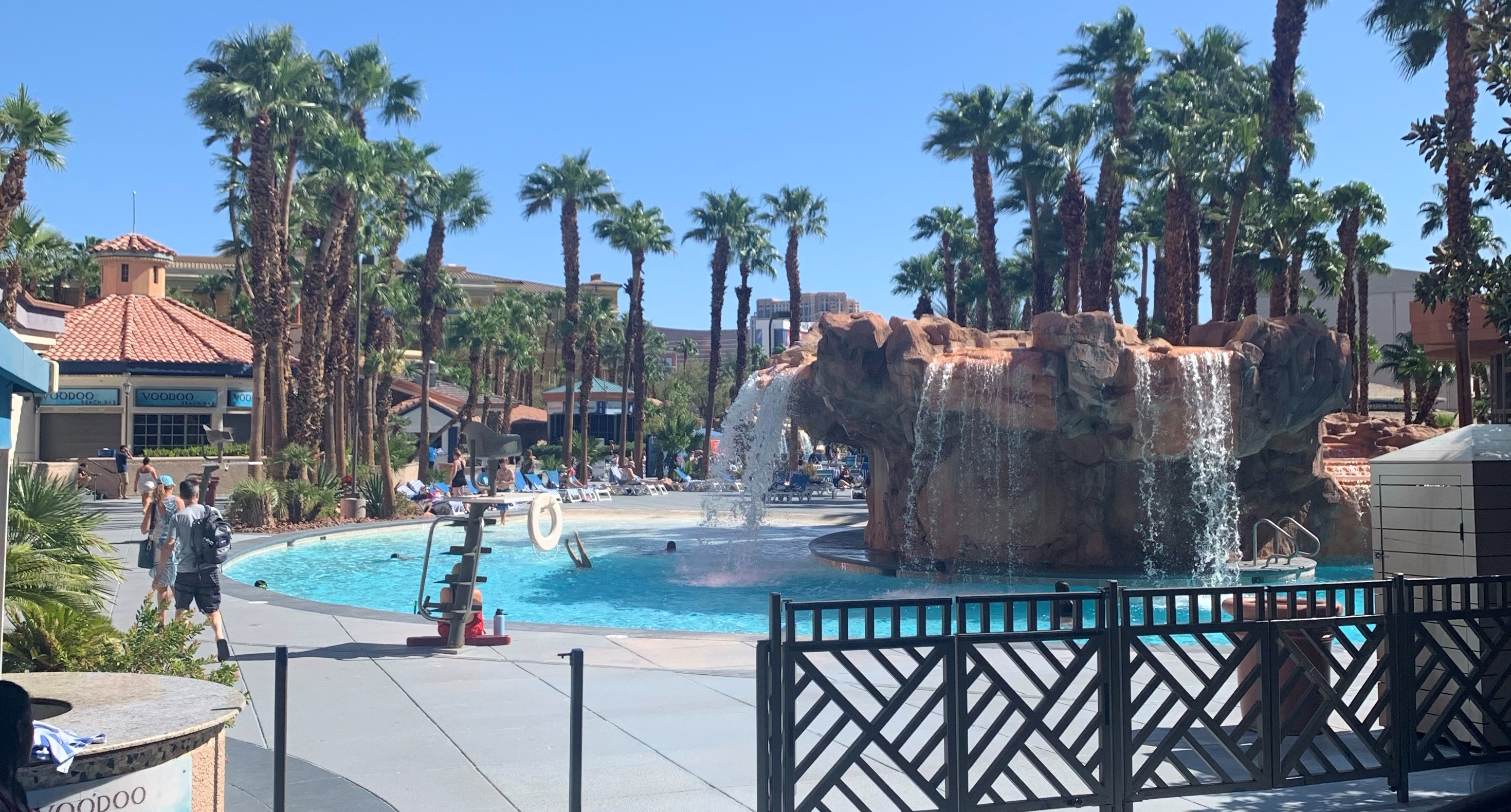 Make sure to bring your bathing suit! The hotel has four pools and some great lounge areas—the perfect way to decompress and soak up the sun on a free afternoon. ~Amanda Ayers
The strip is just a 20 minute walk or short taxi or Uber ride away from the hotel, and full of hundreds of different attractions, including some great restaurants! My one caution would be to make a game plan before going; there's so much to see that it's easy to get overwhelmed. ~Alex McCarron
Honestly, the Strip is a site to behold in and of itself. You could spend a good hour just walking around and taking in all the sites! I recommend going at night—it's much cooler and the lights are spectacular. ~Amanda Ayers
The Last Vegas Strip should be added to your Las Vegas itinerary. We were able to visit the strip during the day and at night time. During the day, you will watch countless shoppers underneath the palm trees; whereas, at night you will capture the Las Vegas neon lights and partiers. The shopping throughout the strip ranges from Ross to Prada, but regardless of your budget, just gazing at the Strip's many landmarks is a must. We watched the Bellagio fountains from afar, and they were stunning! If you ever find yourself with free time, catch an Uber to the strip. ~Claire Seale
Bellagio Fountain Show
3600 S Las Vegas Blvd
Las Vegas, NV 89109
Walking down the Las Vegas strip, there was almost no sight as beautiful and startling as the Bellagio fountains. The fountains shoot water to heights almost matching that of the buildings and are beautifully coordinated with music, using different songs for almost every show. The fountains provide free entertainment and a great photo op as you are exploring the sights on the strip. The sight is especially beautiful at night and is worth waiting for if you and your group are out seeing all of the beautiful lights and fountains. ~Kaitlynn Sass
Seeing the water show and the gardens at the Bellagio was my favorite part of exploring the strip. I definitely recommend seeing the water show on a weekday night to avoid the crowds, but it's worth going after dark. The indoor gardens offer a beautiful (and air conditioned) respite while you explore the Strip. Definitely worth a visit! ~Amanda Ayers
The fountain show is a must-see on the Las Vegas Strip only a short distance from the convention hotel. The show starts every 15 minutes and is an essential part of the Vegas experience. I was staring at the show too much to even take a picture! ~Jessica Trad
The Neon Museum
770 Las Vegas Blvd N
Las Vegas, NV 89101
The Las Vegas Neon museum was by far my favorite part of my Vegas trip. We went toward sunset when the lighting was perfect for photos. I went into the museum in hopes of photos, and I was greeted with interesting history from the helpful museum staff. It was so fun to learn about the history behind each sign. We played a game where we pointed at a sign and the lovely tour guide could tell you all about its history. If you are looking just to take photos, $30 per person is steep for the short walk, but we spent quite a few hours roaming and learning about Vegas history. If you stay long enough, you can watch the neon light up in the evenings. ~Claire Seale
A day at the neon museum may not be a late night on the strip but it is still fun nonetheless. It's interesting seeing all of the relics of old Las Vegas and how the city has changed so comprehensively over the years. The employees here are more than happy to explain the story behind any particular sign, and trust me, the stories are well worth hearing. The signs are especially beautiful as it gets later in the day and the sky gets darker, allowing for the neon lights to truly shine. The entry fee is a steep $22, but there is a discount if you bring your student ID. ~Apryl Moore
The Neon Museum was a favorite destination for all of us. Affordable admission and an excellent tour guide made this attraction super enjoyable! 10/10 would recommend it as a great location for photos and a fun group experience. ~Jessica Trad
Money Saving Tips for Vegas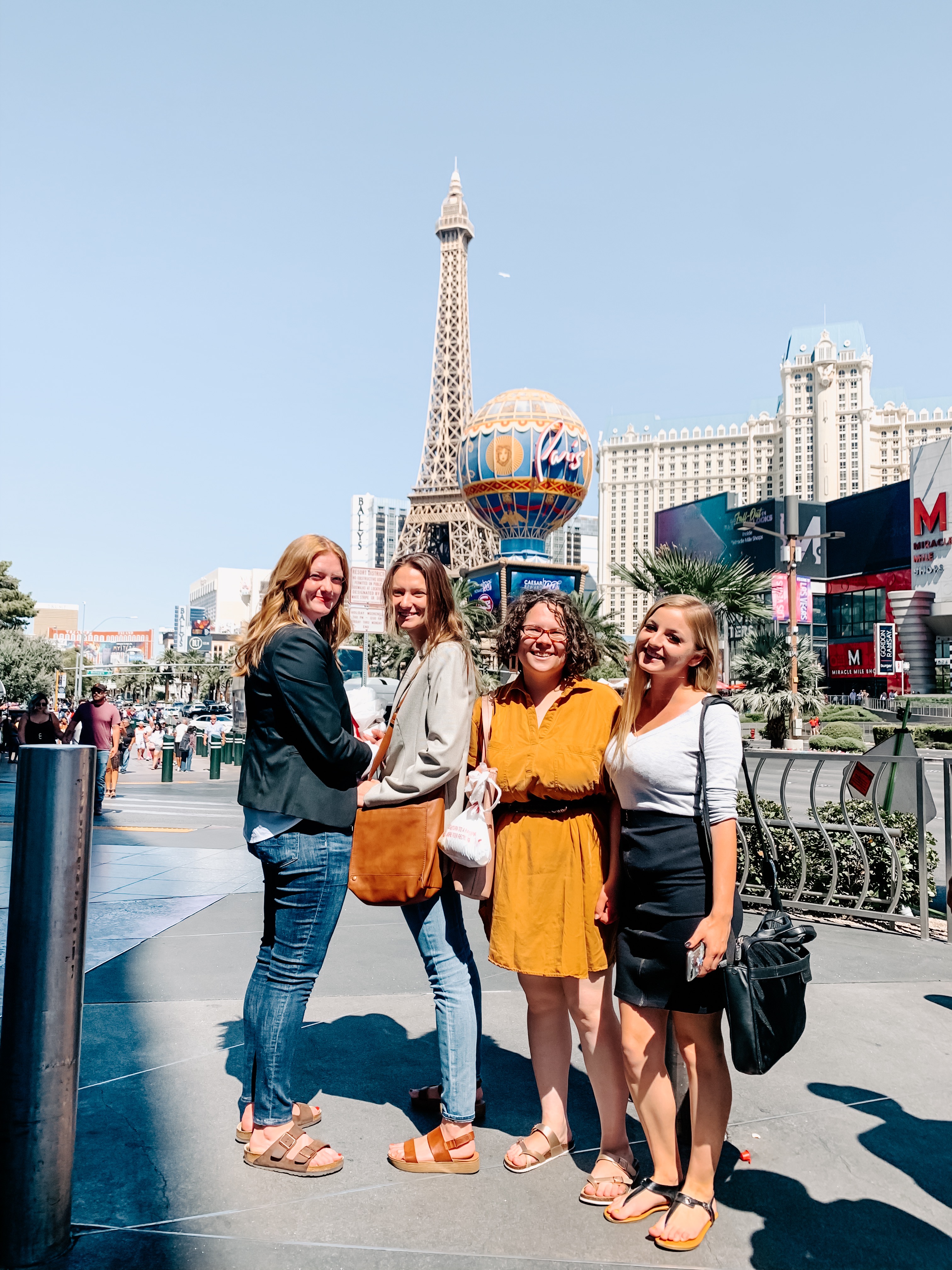 Here are some budgeting tips for saving money at convention!
Only plan to eat one big meal out each day. Collaborate with your roommates to pack snacks, PB&J supplies, etc. (or purchase them when you arrive). Eating a power bar and some nuts for breakfast and a PB&J for lunch will save you big money on eating out.
And think about eating out for lunch instead of dinner. Since lunch is usually a cheaper meal, you get more food for your money at lunch time (especially at buffets). In the evenings, you can make a PB&J for dinner or split an appetizer with friends. ~Amanda Ayers
45 Free Things You Absolutely Must Do in Las Vegas
Budget-Friendly Fun: Las Vegas' 10 Best Free Things to do
Las Vegas Highlights